Dedicated SEO Marketing Services
If you are not at the top, your customers aren't finding you. Conquer your Google rankings today and get started with a plan that fits you and rises above your competition. Get to #1 Fast!
So you've put all this work into building a company that delivers incredible products and services. But your worst fear has come true… no one is finding it online.
As we all know, everything revolves around the internet now and most people find what they want by searching Google.  This is why SEO is the most important ingredient to making sure that your business is always the most visible and accessible option online. A functional, well designed website is important… but if you aren't ranking on the first page of Google for your industry and area, it is as if you don't even exist.
At Nash-Keller Media we are an SEO agency with a proven track record of getting our clients to the top of Google for the most competitive keywords out there. The more visible you are to your customers the more revenue you can begin generating. Contact us today to get started or read below to learn a little about how this all works.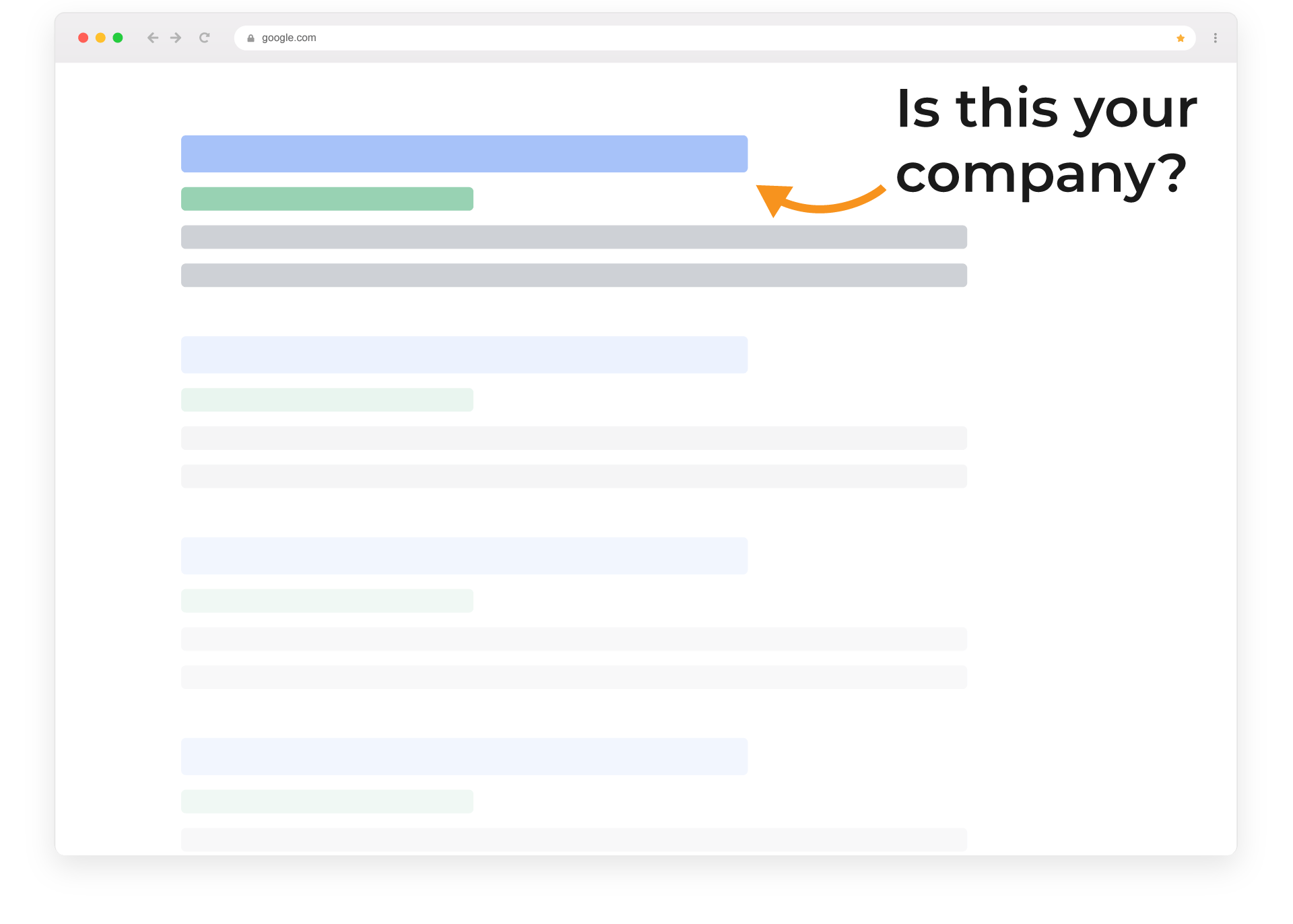 Organic Search
Get relevant traffic to your site by maximizing what your customers are searching for. Through citation building and brand consistency, we help Google start recognizing when and where you should be showing up for specific searches.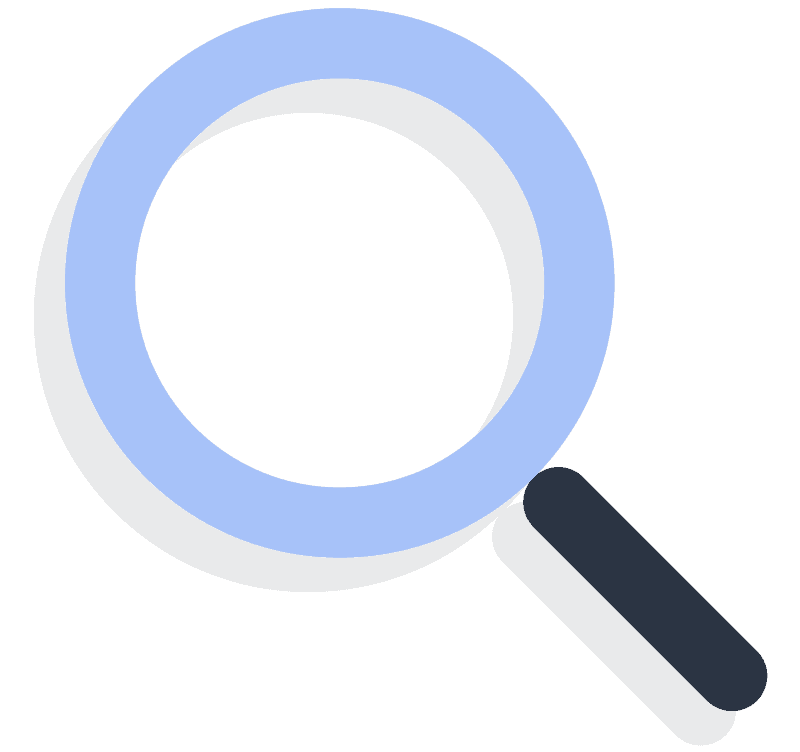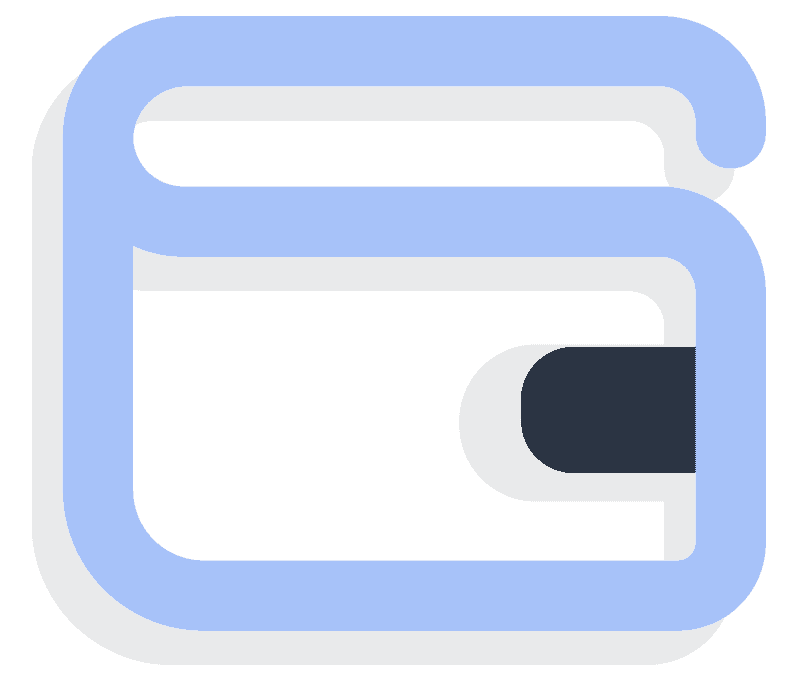 On-Page SEO
Make your site work for you. We make sure everything is formatted perfectly so that your site is fast AND built well aesthetically to convert visitors into sales.
Link Building
Google views rankings much like politics. Once you have a great website (politician) all you need are the votes. We know that Google views links to your site like votes so we focus on getting you very high quality reputable links. We have hand crafted techniques and relationships to obtain you the links you need to rank #1.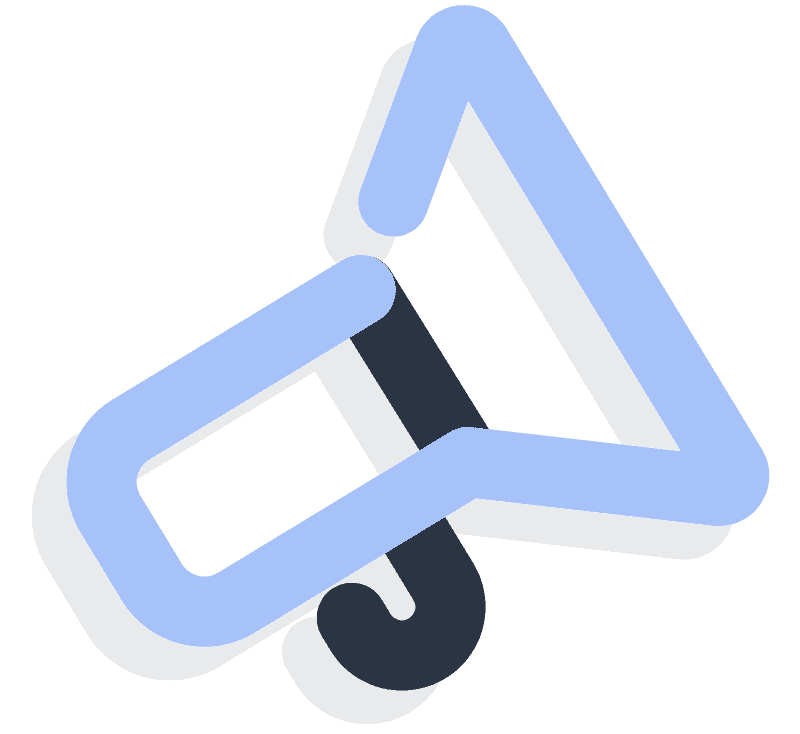 Why Search Engine Optimization
It is proven that the majority of all web traffic is driven by visitors using search engines such as Google, Bing, and Yahoo. Although many different versions of driving traffic such as social or paid traffic can bring visitors to your website, it is usually not high quality traffic. Traffic from organic search tends to be the highest quality traffic you can possibly obtain. One of these reasons is because the intent of your visitor is so much higher than if they were to just see a random link on Facebook. Most advertising forms are disruptive where you are showing an ad or message to someone who is just going about their daily routine. With Search Engine Optimization you only show up for relevant terms where people are actively searching and trying to solve a question they have. If you can provide the answer you will make the sale. Visitors also trust organic results from search engines like Google far more than when they are clicking on an advertisement. Search engines are the roadways to bring this highly targeted traffic directly to your website.
If your site can't be found in Google search you are missing out on an incredible opportunity to grow your business and increase your bottom line!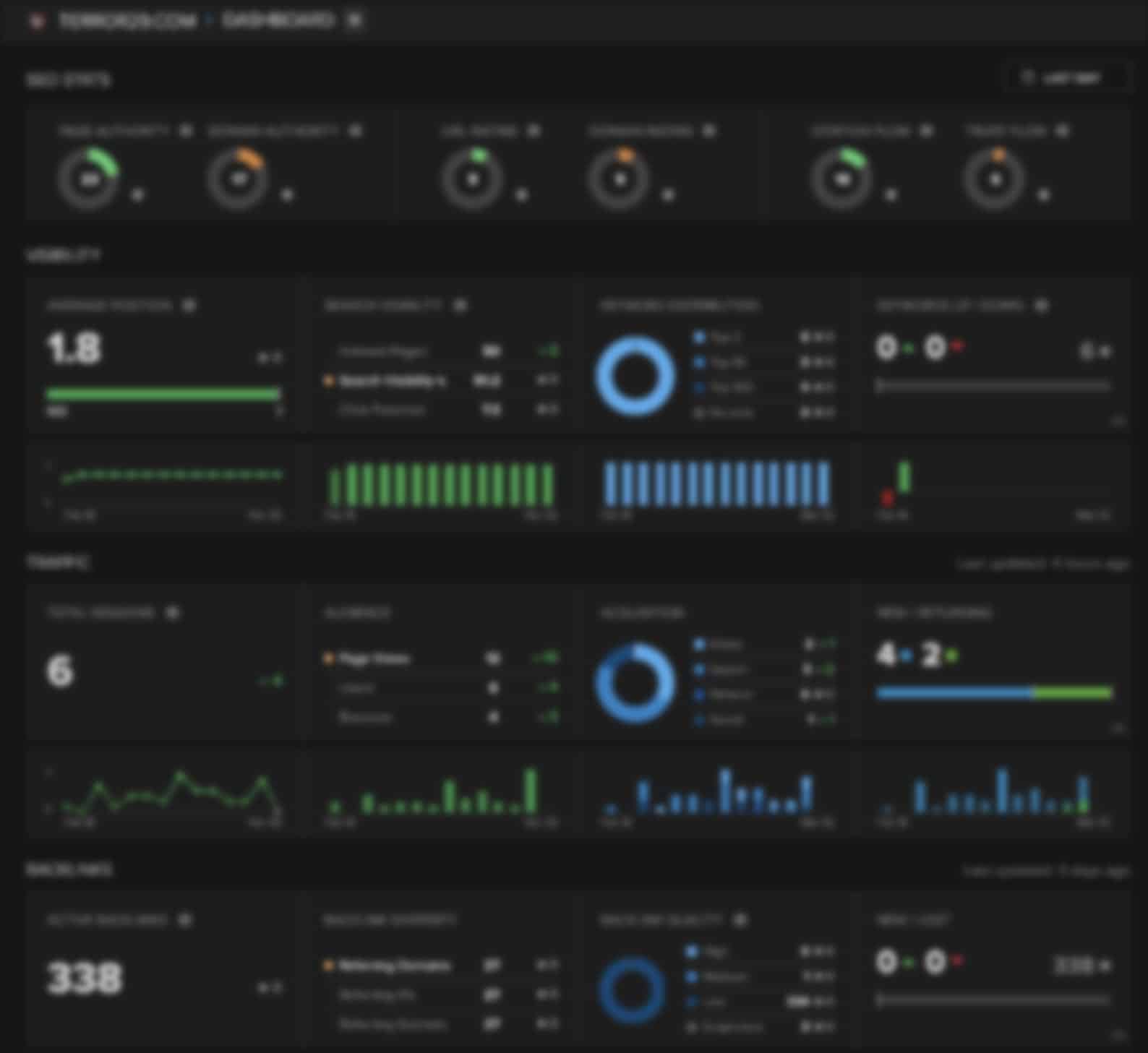 SEO can feel complicated and confusing. That's why we make sure you are able to see real time reporting along with monthly updates. We've got nothing to hide and want to stay accountable. Some agencies make you feel like you should just trust that they know best. Nash-Keller Media handles SEO optimization with full transparency so you always know your current search engine rankings for all your keywords.
Let's celebrate success together by letting tracking and reporting speak for itself.
There are many different ways to approach SEO. Some you might have even tried to tackle yourself to find that it didn't really make any difference. At Nash-Keller Media we start any project with a full audit of your site and your industry. (We can even fully build out your site from scratch to ensure optimal SEO performance.) This allows us to do keyword research and find where all the opportunities are to rise above your competition.
We first focus on everything that can be done right on the site. Making it easy for search engines to find you and know all the correct keywords that you should be ranking for. Creating quality content and speed optimized sites is critical. Our focus is creating a great on-site experience for your customers while ensuring search engines like Google clearly know who your site should be shown to.
On-site optimization is just half the battle though. We then create a citation and link building plan to jumpstart your relevance and ensure Google is ranking you right away. In competitive industries this is essential. Custom link building plans are the only way to rise to the top of those search engine results. This will increase your credibility and ultimately your visibility all the way to that number 1 spot!
Nash-Keller Media is a company you can trust to take your digital marketing and e-commerce website to the next level. They are passionate about their clients by ensuring to build relationships and always following up and following through for the maximum ROI.
 Megan Kowal
Lotus Boutique
"Nash-Keller Media knows what they're doing. That's all I gotta say!"
– Charles H.
"I have been working with Nash-Keller Media for over a year now. They have designed my website and have optimized it to be a top 5 ranked site within a year. I'm a numbers guy and thankfully so are they, they show me exactly what it is their doing and how the progress is coming. I highly recommend these guys and plan on having them keep my site growing and evolving!"
Chad Leddy
Hardy Counters & Floors
Google My Business – Local Listing Optimization
There are only three places that you can show up on Google. The Map, Sponsored Links, and organic links. As a local business, this solution to old school phone books leaves you with fighting for those top spots to get future customers. You need to be sure we are there and that's what we make happen!
Let's break down local listing optimization through Google My Business a little more so you can see everywhere you could be showing up to your customers.
Your Company Card
If you Google a specific company you will most likely see a card pop up next to your search results. This might have their logo, some photos, reviews, and general company information. This is one of the many benefits of your Google My Business listing. (If you don't have this we can get you listed fast no problem.) For the most part this is only going to pop up if people search your company name directly. What if just your industry keywords are searched for? That's where listing optimization comes into place and the entire focus of search engine optimization.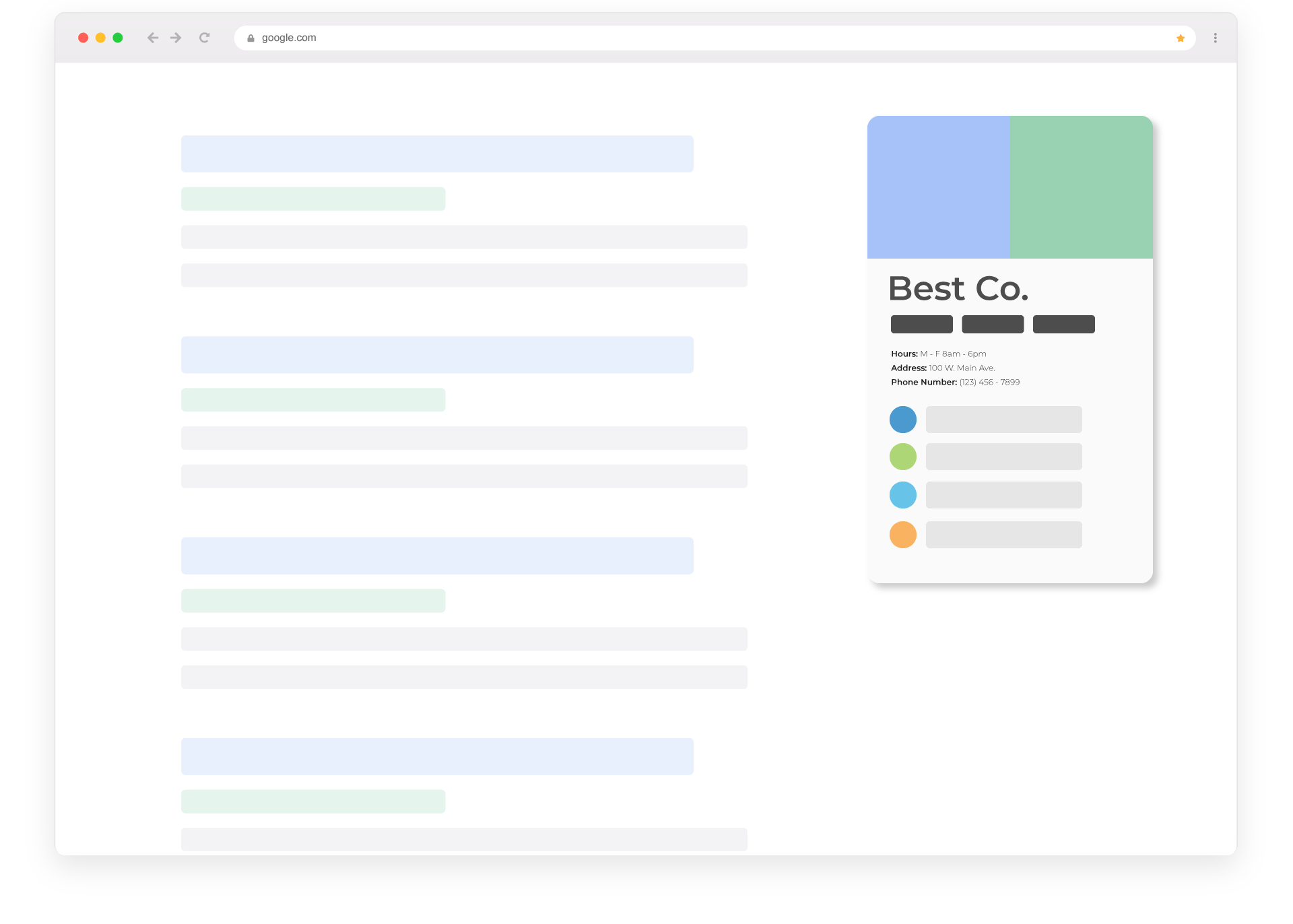 The Map
The map is the first of the three places where you can see where your site could pop up. This is heavily determined by how you have invested in a local SEO company. Local listing optimization puts a focus on getting your business high up on the map. Being in those coveted spots allow potential customers to immediately hit those "call now" or "get directions" buttons.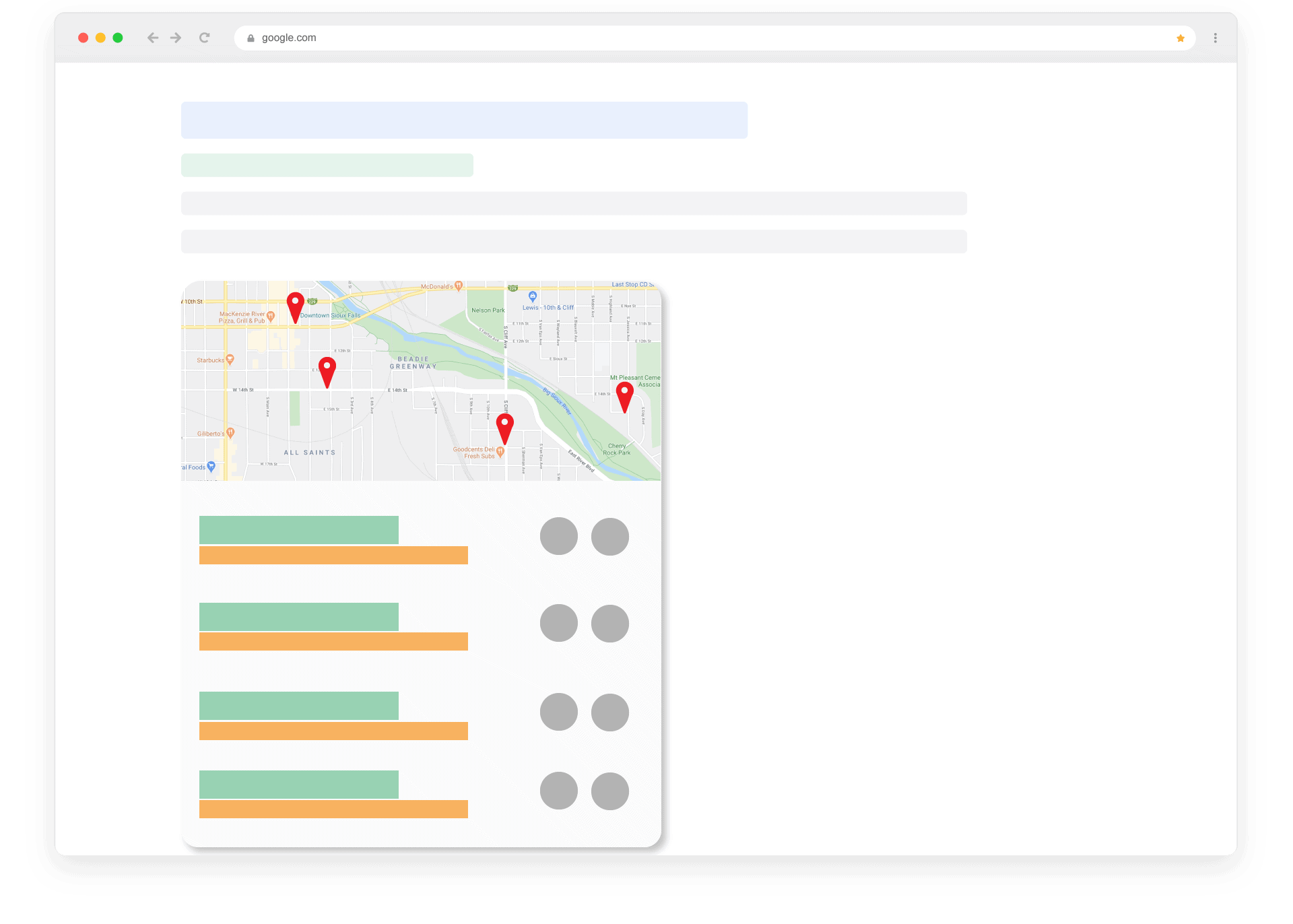 Sponsored Links
Often referred to pay-per-click or AdWords, these links will show up above or below the map and often even in the map listings themselves. This is a great way to get immediate traffic to your site if set up right but you have to pay EVERY time someone clicks on that link. The power of hiring a SEO company means you invest in getting up to that page one spot and not having to pay for every click. We recommend a good strategy that implements both with a focus on the long term benefits of SEO. In addition to SEO we offer custom AdWords management plans for clients as well.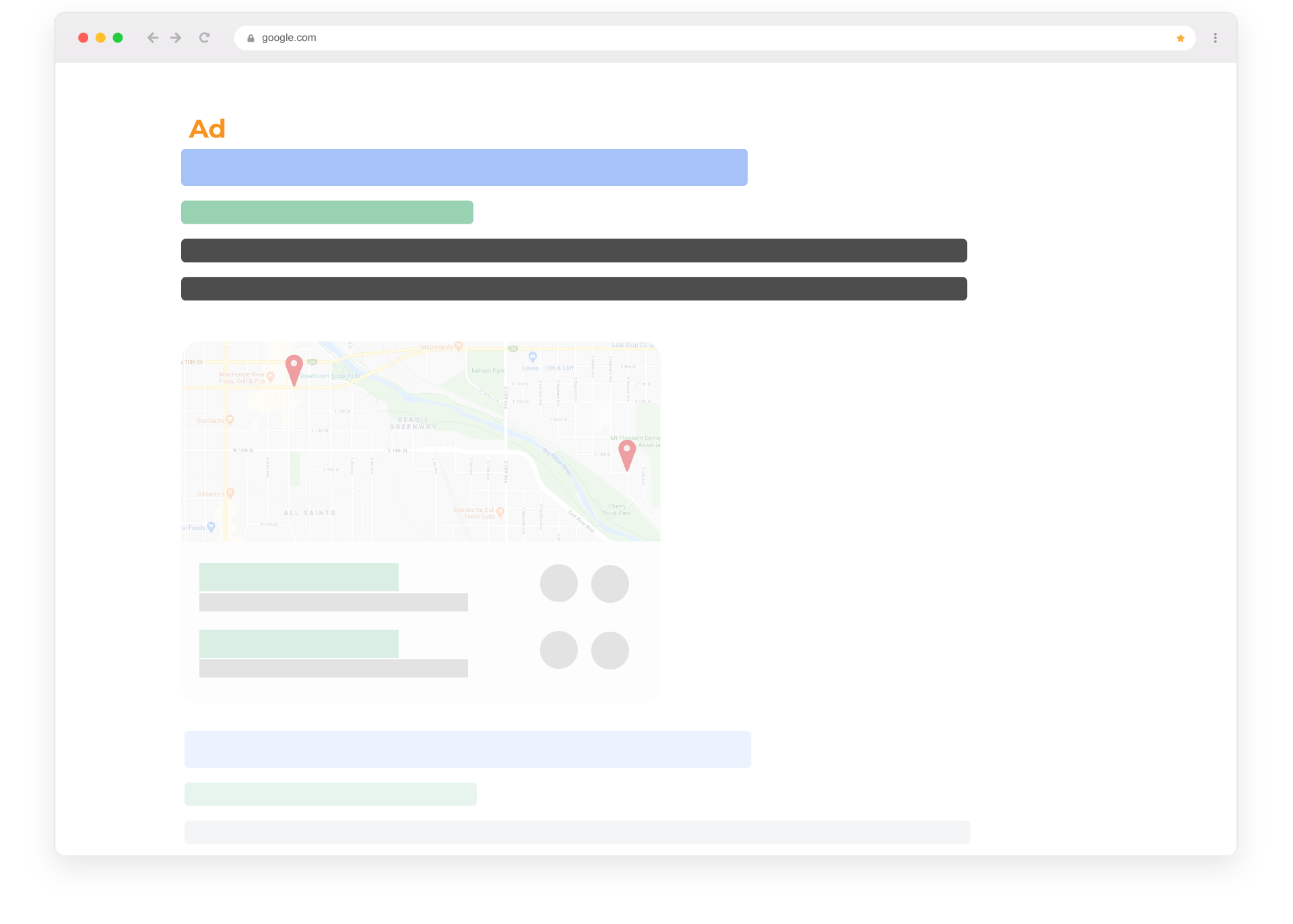 Organic Listings
Everything after the sponsored links is entirely determined by Search Engine Optimization. All of our tried and tested strategies from on-site optimization to citation creation and link building ensures that you end up on page one of search engines.
If you aren't on the front page you don't exist. Despite SEO being a timely and costly process, the investment is worth it when that organic traffic and phone calls start coming in from your best future customers.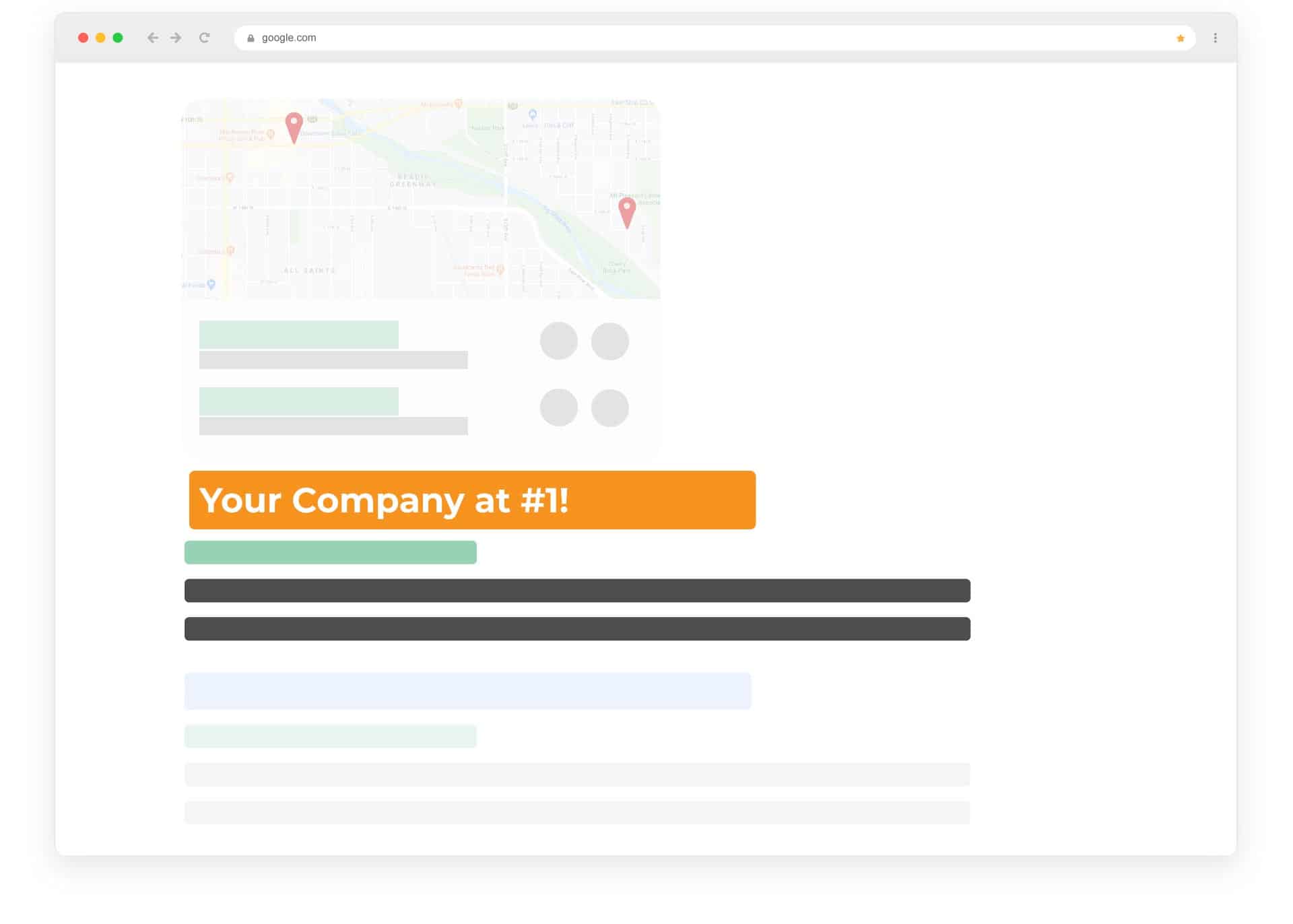 SEO Packages
We want to be sure we have an option for everyone. SEO is an investment and remember there are a lot of costs on our side to get your site up to #1 from both our internal team's time and purchasing links and citations. If you have any questions about any pricing never hesitate to reach out. 
Let's get you to ground zero and see where we can go from there. Often times there are things that are hurting your rankings that we can repair. Plus we can give you a report about opportunities that we see with your company.
Starting at $500
Start rising in your local listings for your company. We help fully manage your Google My Business listing and start building out citations for your site which grows and creates the authority search engines are looking for. 
Starting at $750 / Month
If you are in a highly competitive industry or being at the top is critical to the growth of your company, this is for you. We do a deep dive and actively create a linking building strategey to help rise above your competition and stay there.
Starting at $3,000 / month
We Love our Clients! Here are some of the incredible people, companies, and brands that we have had the opportunity to work with over the years. 
Web Design
When you are thinking about SEO, one very important part is making sure you have a functional site representative of your brand. Let us help you create your site and have it optimized for ranking on search engines.
Click to Learn More
Content Production
We partnered with Main St. Media House to provide all your video production and photography needs to make your digital campaign strategy successful.
Click to Learn More
Facebook Advertising
Getting traffic through other sources is critical. As Facebook experts we have generated millions of dollars in sales for clients through e-commerce and lead generation. Let us get your campaigns started today.
Click to Learn More
Google AdWords
SEO is the long play. Google AdWords can get you traffic today. Our ad optimization strategies ensure you are getting quality, high converting traffic viewing your site. We reccomend an AdWords campaign accompanies any SEO plan.
Click to Learn More
Performance based.
100% of our results are based on performance. This is an entirely different strategy than any other firms. As your SEO experts, we will gladly show you the results we are generating so that you can see actual proof of what we do for you.
We don't offer cookie cutter rates.
Other than our introductory plans, we do not offer any sort of "regular or tiered" plans for any clients. Online marketing strategies have to differ because no two situations are exactly the same. When we meet a client we first sit down with them and see what their needs and wants are. We also make sure that the client is a good fit for our company so that we are not wasting anyone's time. Once we find the goals of our clients we build out a specialized strategy on how to reach the goals in the quickest time frame.
100% in-house.
We do EVERYTHING in-house. We don't outsource or whitelabel any of our services because we actually know how to do everything from the ground up. Pretty much everyone else you deal with (especially with link building) will actually be deceitfully outsourcing very cheap and risky services from the Philippines or India. This is very dangerous and will almost surely earn you a penalty from Google and the other search engines. Unlike other companies just looking for the cheapest way to do things and still accept your check, we focus on what Google and other Search Engines want now and will probably want in the future, and we build your strategy around that.
We use responsible white hat techniques.
Many organizations use different spam techniques to (sometimes) boost your rankings up quickly, but then you end up falling back even further than you were before the boost. We focus entirely on white hat techniques and building out every property we promote to be diversified and pre-planned for any possible changes in Google's algorithm.

We truly care.
To Nash-Keller Media you are NEVER just "another client" passed to the newest intern. We are here to help you get the rankings you need in the search engines and continue to help you with your overall digital marketing strategy. We will not rip you off with every little service or change to your website. In fact, we focus on building everything we do so that the client can do as much as possible on their own, and still leave us the ability to do anything else they don't want to or don't have the time to do.
Communication.
Communication is a very important part of our process. You will always be a direct email or phone call away to your direct representative. You will NEVER speak with someone who is only there to increase commissions on your account and upsell you into worthless services. We are very easy to talk to and are there to help break down all of the nerdy technical speak into an understandable discussion.
Most of our clients who change SEO service providers will say that other than a lack of results, communication is the second most common reason that they are looking to switch providers.
Let's Work Together
If you are interested in learning what we can offer your company, contact us and get advice from an expert.
We're here to help your business reach new levels of success.